Restorative dentistry is a dental specialty that focuses on repairing teeth damaged by decay, disease, or trauma. Restorative dentistry aims to restore your teeth to their healthy, normal function and appearance. At Promenade Dental, we perform restorative dentistry to restore teeth damaged by decay, disease, or trauma.
Types of Restorative Dentistry Treatments
Dental Crowns
A dental crown is a tooth-shaped cap placed to cover a tooth that has been damaged or decayed. Crowns are used to restore the shape, size, strength, and appearance of a tooth. Crowns can be made from porcelain, metal, ceramic, or resin.
Bridges
Bridges are a type of fixed partial denture that is used to replace one or more missing teeth. Bridges are usually made of either porcelain or metal and are anchored in place by attaching them to adjacent healthy teeth by our dentist in Chandler, AZ.
Dentures
Dentures are removable appliances that replace missing teeth. Dentures are made from plastic and metal and can be complete or partial. Full dentures are used when all teeth are missing, while partial dentures are used when some natural teeth remain.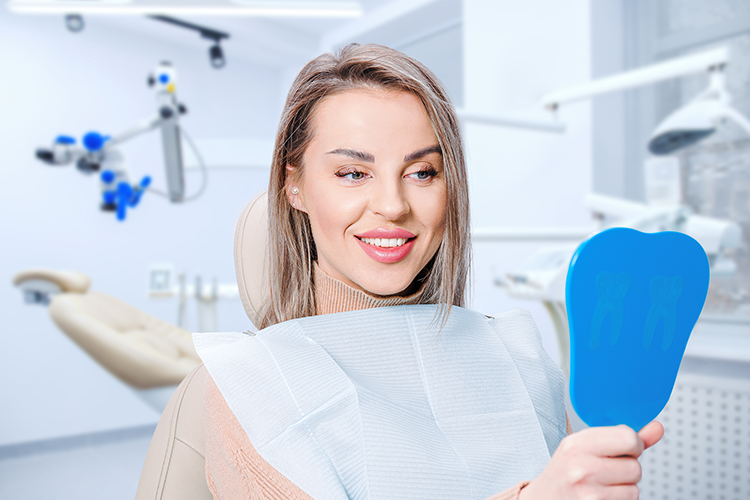 The Benefits of Restorative Dentistry
Preserving Natural Teeth
One of the primary advantages of restorative dentistry in Chandler, AZ, is its focus on preserving natural teeth whenever possible. Procedures like fillings and dental crowns are performed to repair and strengthen damaged teeth, extending their lifespan and supporting long-term oral health. By opting for restorative treatments, you can often avoid the need for tooth extractions, ensuring that much of your natural smile remains intact.
Enhanced Aesthetics
Restorative dentistry goes beyond functional improvements; it's also about enhancing the appearance of your smile. Procedures like dental crowns and bridges are meticulously crafted to blend seamlessly with your natural teeth, ensuring your smile looks healthy and aesthetically pleasing. This can boost your self-confidence and make you feel more comfortable in social and professional settings.
Improved Oral Functionality
Dental issues like missing teeth or severe decay can significantly hamper your ability to chew, speak, and perform essential oral functions. Restorative dentistry is designed to restore these critical functions. Whether it's through dental implants that replace missing teeth or root canal therapy that saves an infected tooth, these procedures ensure that you can enjoy the full functionality of your mouth once again.
Prevention of Further Damage
Addressing dental problems promptly through restorative dentistry can prevent more extensive and costly issues. For instance, untreated cavities can lead to infections or even the loss of the affected tooth. By opting for restorative treatments early on, you can avoid these complications and safeguard your oral health.
Restorative dentistry isn't just about fixing teeth; it's about helping you regain your self-assurance and enjoy life to the fullest. For more information, visit Promenade Dental at 4905 S Alma School Rd Ste 1, Chandler, AZ 85248, or call (480) 802-8188.